Floor Covering International is a great opportunity for someone with good management and communication skills.  To learn more fill in our contact form located here.
Click Here to Request More Information
Graham McLeod worked 20 years in the oil and gas industry, 18 of which were in subsea operations for Cameron, before he mentally "checked out."
After traveling for no less than 180 to 200 days out of the year for two decades, he decided he needed to spend more time at home.
"I didn't realize how much stress I was under or how stressful the industry had become," McLeod told Rigzone. "I didn't realize I actually didn't enjoy my job anymore. Everything was building up and I didn't realize it until I left."
As the industry's woes continue amid month after month of layoff announcements, uneasiness among oil and gas workers has elevated. But instead of waiting around on a full recovery, many energy professionals like McLeod have opted to venture outside of oil and gas and delve into business ownership.
Exploring Opportunities
McLeod, an Aberdeen native and current resident of Houston, left the oil and gas industry in April of 2015. He'd always talked about becoming a business owner. He and his wife were first introduced to franchise ownership while scouting daycares for their baby. He began looking into franchising and was contacted by a franchise recruiter one day who provided him with a few franchise options.
"I realized all I talked about was home remodeling and interior design," he said.
Today, McLeod's the proud owner of his own franchise of Floor Coverings International in Northwest Houston.
"I tend to jump into things with both feet and tread water after," he said. "The only hesitation I had was funding the business."
McLeod and his wife, who also works in oil and gas, were advised by a franchise network on how to roll over their 401K into the business. This allowed them to purchase the franchise debt-free.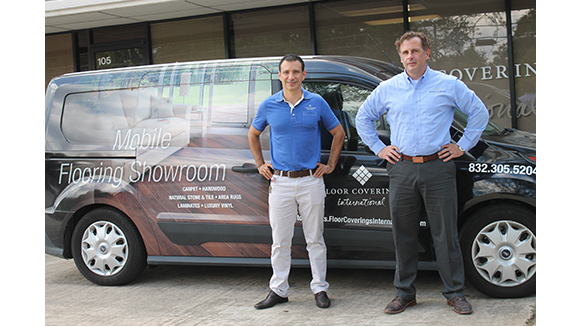 Reinel Solano (l) and Graham MacLeod (r) both decided to open Houston franchises after leaving the oil and gas industry during one of the worst downturns to date.
A fellow Floor Coverings International franchise owner, Reinel Solano, also began his career in the oil and gas industry. He had 20 years of experience in reservoir engineering, most recently working four years at BP plc in a leadership role.
After learning that he would be laid off, Solano decided to take his severance package and seek out opportunities in business ownership.
"My initial reaction after being laid off was 'I need to find a job,'" Solano told Rigzone. "I attended seminars and found that I really enjoyed my past positions as a team leader, but didn't want to return to the technical side of the industry."
He said he was completely open-minded about industries when he began researching franchises and decided on Floor Coverings International because he felt "it was a good fit and saw financial opportunity there.
"I never complained about losing my job. I just saw this is an opportunity to find the path God had for me," Solano said. "I went the franchising route because I had a support system to help me be successful. I used my severance package to start my business."
What's the Appeal?
Richard Ballard graduated from the Colorado School of Mines with a degree in geophysical engineering and began his career working for Schlumberger as a field engineer. The oil collapse of the 1980s left him unemployed and after getting hired on with companies that underwent mergers and acquisitions, the instability began to wear on him.
When Ballard got laid off from BP's research department in 1992, he decided enough was enough. He explored franchising options and decided on Mail Boxes Etc., which later became The UPS Store. This led him to move to Colorado where he opened his first franchise in downtown Denver. For 22 years, he experienced success as a multi-unit franchisee.
"I always knew I was pretty good at running businesses and after I sold my UPS stores, I received calls from the CEO of Instant Imprints, a franchisor of branded apparel," Ballard told Rigzone.
He decided to pursue another business venture as area developer for Instant Imprints, a role in which he supports existing franchisees and sells new franchises in Colorado.
With the oil and gas industry's downturn, franchising seems to be an attractive option for energy workers who have grown tired of the industry.
Rhonda Sanderson, founder of PR firm Sanderson & Associates, Ltd., which represents franchise systems nationwide, told Rigzone she's seen an uptick in the number of franchisees who were formerly in oil and gas.
"Using Floor Coverings International as an example, they've sold 30 franchises in a year and the last three were from the oil and gas industry and live in Houston," she said. "Drawing from my 35 years of experience, I foresee an impending influx of [oil and gas professionals] buying franchises for the rest of 2016 and 2017."
Sanderson said while franchising is not truly entrepreneurship because an entrepreneur starts a concept, she said franchising is appealing for those individuals who "want to be on their own, but don't want to be completely on their own."
"It's really about being a small business owner with lots of support … and they'll have a little better chance of making it because they've seen it's a proven business model," she said. "Most oil and gas people are looking to buy service businesses."
Oil and gas workers often have certain skills that transfer well to business ownership, such as management, leadership and self-discipline, Sanderson said.
Return to Oil and Gas?
Of course, the oil and gas industry will eventually see a full turnaround. Though nobody can predict exactly when that will be, there will definitely be an influx of job opportunities and a need for skilled, experienced workers.
But at 63, Ballard feels he is too old to try and return to the industry.
"I've been out of the industry for 20 years and their thinking is if you've been gone for a couple of years, you don't know anything anymore," he said.
MacLeod hasn't completely ruled out returning to the industry. Though he said he doesn't miss oil and gas, he meets with colleagues every now and then to reminisce on the good times in the industry.
"The only way I would return is to travel extensively again. It will give me that chance of freedom since I'd only be working half of the year," said MacLeod.
Solano, who moved to the United States from Colombia 18 years ago, said his Houston franchise location allows him to help support his family. His brother and sister-in-law work with him at his store.
"At BP, I commuted 15 years to the same complex. Now every single day is different. I do a lot of networking and meet new people," said Solano.
He compares venturing into franchising to moving to the United States, something he describes as an adventure.
"My goal now is to make my business successful … so that I don't need to go back to oil and gas."